Skip to end of metadata
Go to start of metadata
Publish Subscribe Channel
Camel supports the Publish Subscribe Channel from the EIP patterns using for example the following components: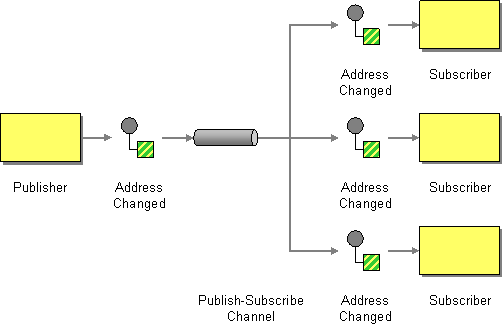 Using Routing Logic
Another option is to explicitly list the publish-subscribe relationship in your routing logic; this keeps the producer and consumer decoupled but lets you control the fine grained routing configuration using the DSL or Xml Configuration.
Using the Fluent Builders
Error formatting macro: snippet: java.lang.IndexOutOfBoundsException: Index: 20, Size: 20
Using the Spring XML Extensions
Error rendering macro 'code': Invalid value specified for parameter 'java.lang.NullPointerException'

<camelContext errorHandlerRef="errorHandler" xmlns="http://camel.apache.org/schema/spring">
    <route>
        <from uri="direct:a"/>
        <multicast>
            <to uri="direct:b"/>
            <to uri="direct:c"/>
            <to uri="direct:d"/>
        </multicast>
    </route>
</camelContext>

Using This Pattern
If you would like to use this EIP Pattern then please read the Getting Started, you may also find the Architecture useful particularly the description of Endpoint and URIs. Then you could try out some of the Examples first before trying this pattern out.