Skip to end of metadata
Go to start of metadata
Message Dispatcher
Camel supports the Message Dispatcher from the EIP patterns using various approaches.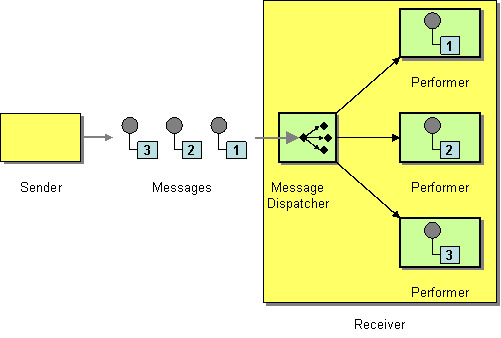 You can use a component like JMS with selectors to implement a Selective Consumer as the Message Dispatcher implementation. Or you can use an Endpoint as the Message Dispatcher itself and then use a Content Based Router as the Message Dispatcher.
Example
The following example demonstrates Message Dispatcher pattern using the Competing Consumers functionality of the JMS component to offload messages to a Content Based Router and custom Processors registered in the Camel Registry running in separate threads from originating consumer.
Using the Fluent Builders
Using the Spring XML Extensions
See Also
Using This Pattern
If you would like to use this EIP Pattern then please read the Getting Started, you may also find the Architecture useful particularly the description of Endpoint and URIs. Then you could try out some of the Examples first before trying this pattern out.